About us
Olba develops and produces products for mainly poultry and rabbits, for the small non commercial livestock holders. We sell our products to resellers worldwide, like wholesalers, stores and (web)shops.
Your specialist in products for poultry and rabbits
Olba B.V. specializes in products for keeping poultry and rabbits. You can get acquainted with our wide range of products on our website. These products are usually in stock. We pay close attention to the development of new products and improving existing products. Therefore we are pleased to listen to the ideas of our customers.
We are always open to new suggestions. If desired, we can even make customized products, such as products or packaging with your own logo or barcode. Even producing your own product is one of the options.
History
Olba B.V. is originated from the hobby of Douwe Oldenbanning, the director, and is slowly grown into a professional company. The director, Douwe Oldenbanning, was 12 years old and already active in keeping various birds and poultry. This early experience has created the interest for the commercial poultry.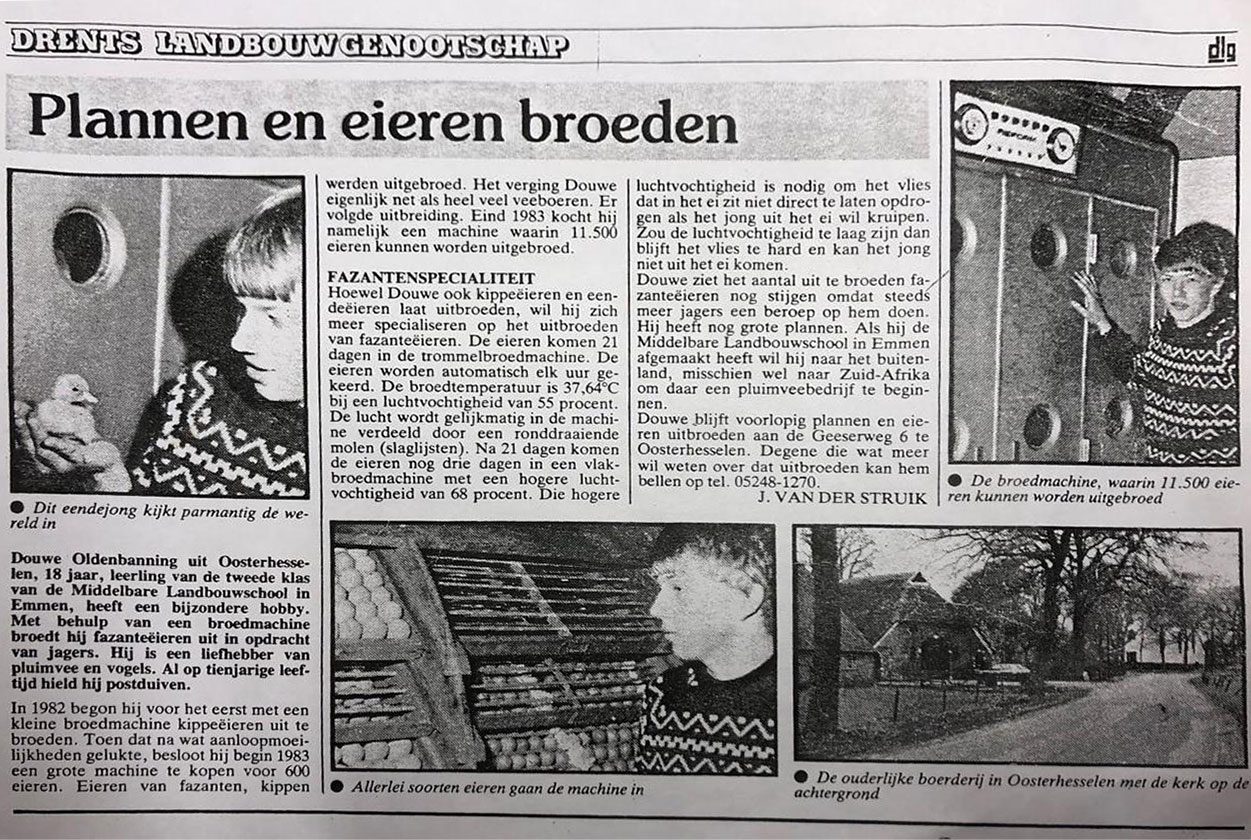 After his years of experience with poultry and incubators, and working for one of Europe's largest hatcheries, Douwe Oldenbanning established Olba B.V. in the year 2000. In the beginning, warehouse and office were housed on the family farm. In the first years Douwe Oldenbanning combined Olba with keeping broilers.
Because of the great ambition of Douwe Oldenbanning and the takeover of the company Therbo/Broedmij in 2003, Olba has grown fast. This has led to many international contacts. Since 2005 Douwe Oldenbanning made the decision to stop keeping poultry, as it was difficult to combine with a strong developing company. From that moment, more time has been spent on product development and innovation, allowing Olba B.V. to grow into an established company.
Located in Coevorden, the Netherlands
Since 2008 Olba is located in Coevorden. Here you will find our office and warehouse. In the year 2013 our warehouse has extended with a new industrial building (1.800 m² / 11 meters. high). Recently we have set up a new production department for metal sheet products.
We thank you in advance for your interest in Olba B.V. If you require more information, please do not hesitate to contact us.
We hope we can be at your service, for now and in the future!
TEAM OLBA